Drake Rowboat / 17'
Seaworthy speed for the fixed seat rower
Just out on the web! See the Off Center Harbor video on the Drake 17 and Raceboat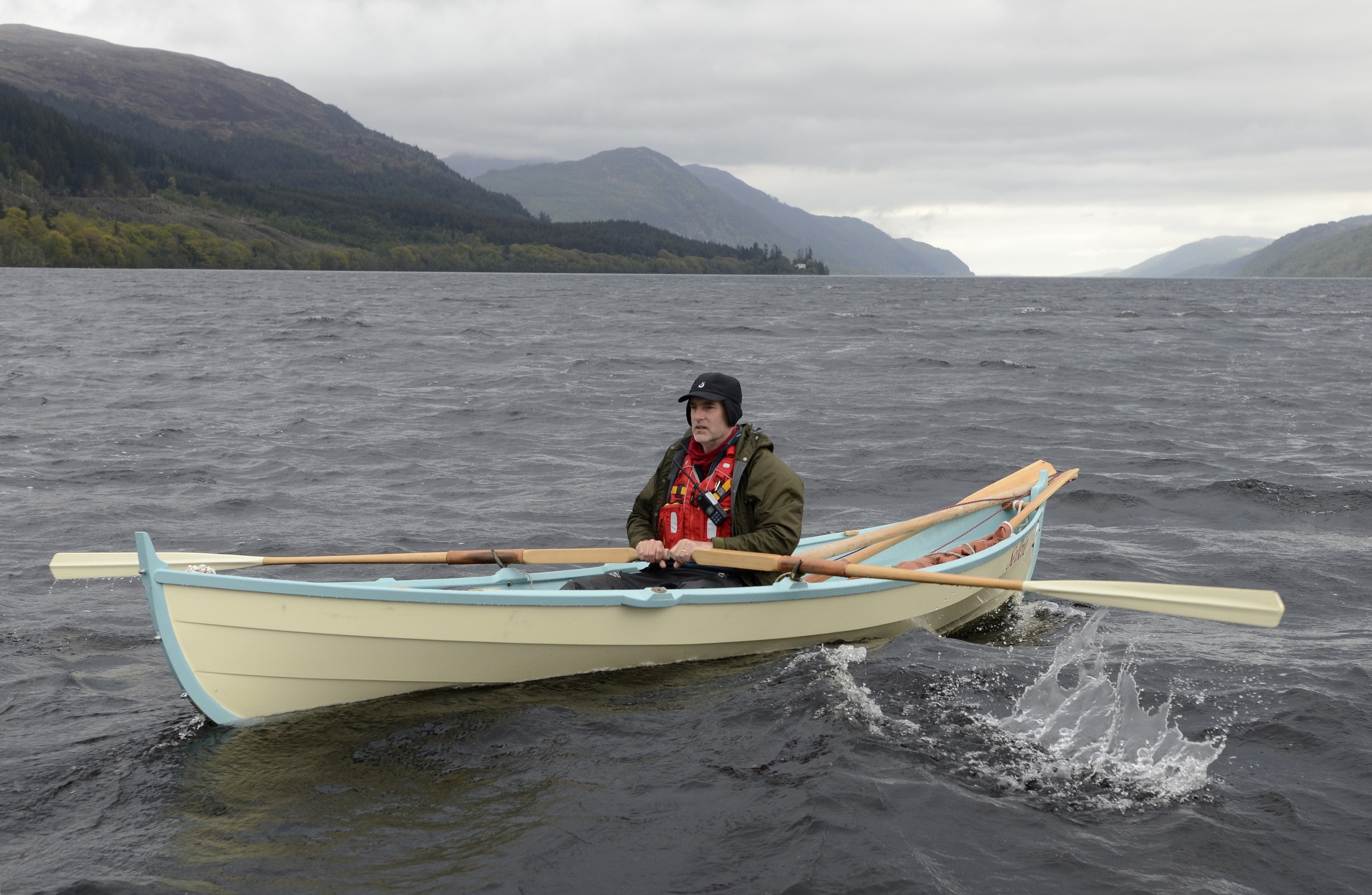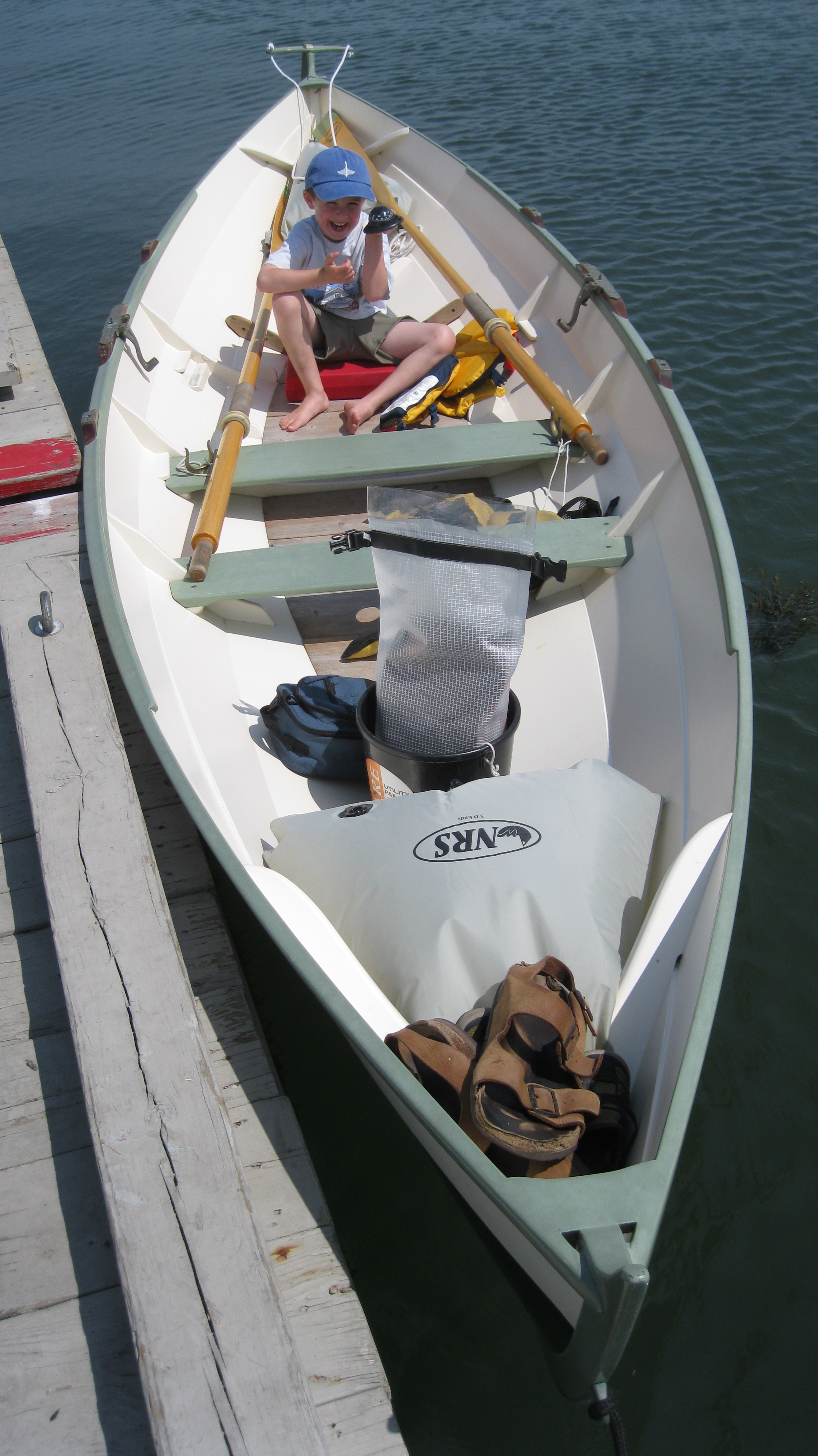 SPECIFICATIONS
LOA 17' 4"
LWL 15' 3"
Beam 4' 1-3/4"
Draft 6"
Depth amidships 12 1/2"
Sail Area 60 SF (squgsail)
KEY FEATURES
-A hull shape that maximizes seaworthiness and easy glide through the water
-A low-aspect lug rig option that allows the boat to sail off the wind
-Beginner level construction using the kit
The Drake 17 is a very, very special boat for me because it was my first design/build project and the boat that really began my career. Over many winter nights, I had dreamed and dreamed of a boat that would take me far out into Casco Bay, among the outer islands and rocky edges of the Gulf of Maine; a boat that was so efficient under oars that I could row all day; a boat so pretty that I wouldn't be able to stop looking at it when I came home.
Originally drawn by hand, the Drake Rowboat was also one of my first kit offerings. Many have been built all over the world -- east and west coast of the US, Australia, New Zealand, and the UK. Most of those builders also wanted an "uncommonly good" rowboat, a fast boat but also a boat that would take care of them in open water. Drake was certainly inspired by a number of boats by reputable designers. But I wanted to go leaner and faster than the other traditional fixed-seat rowboat plans showed and I had already learned that a great rowboat must also be lightweight. Drake features a reasonably long, narrow waterline to give her slip and glide through the water, but not so narrow as to feel "tippy". On the contrary, the Drake is quite stable which really provides a great deal of comfort out in open water. You can move around inside without worry and with kids aboard, no problem.
My family and I frequently rowed out to islands to explore. I went for long, solo rows into open water, for an entire 20-mile day covering the more open waters of Casco Bay and stopping by favorite islands for a break. I raced the boat and did quite well, winning first and second place medals in the Essex River Races. To add to the fun, I enjoyed sailing the boat with my downwind lugsail called the squgsail. The stability of the hull allows one to sail off the wind, without a centerboard of any kind, only the lateral resistance of the keel allowing one to sail as high as a beam reach, and fast. One Small Reach Regatta, I was rowing Drake on day 1, but on day 2 we were blessed with a 10 knot, offshore breeze. I raised the sail and was sailing right up in the front, between two Caledonia Yawls. After a while, one skipper looked over and said, "Weren't you just rowing yesterday?". That being said, the Drake 17 is primarily a rowboat, but the adventurous sailor will be delighted to sail the boat downwind and should not be lured into the idea that a centerboard will make her sail better. Drake is a fast & seaworthy rowboat, with just enough stability to enjoy a free ride home.
The Drake 17 is built from 6mm Okoume marine plywood for the hull (optional 4mm for middle and sheer strakes), transverse ring frames, and interior buoyancy tanks. The stem and sternposts are actually from precut, laminated plywood in the kit. The kit includes the strongback and all the interior structure which is set up using a number of interlocking, CNC-cut features, and planked upside down.
The keel, seats, and gunwales are built out of Cedar, Spruce, Pine and a bit of hardwood to keep her light but strong. Finished right the boat can be as light as 110 lbs making her easy to trailer especially with a light trailer.