The Drake Raceboat Series
Beauty and speed for the pleasure rower at 18' and 20'
Just out on the web! See the Small Boats Monthly article and the Off Center Harbor videos on the Drake Raceboat 18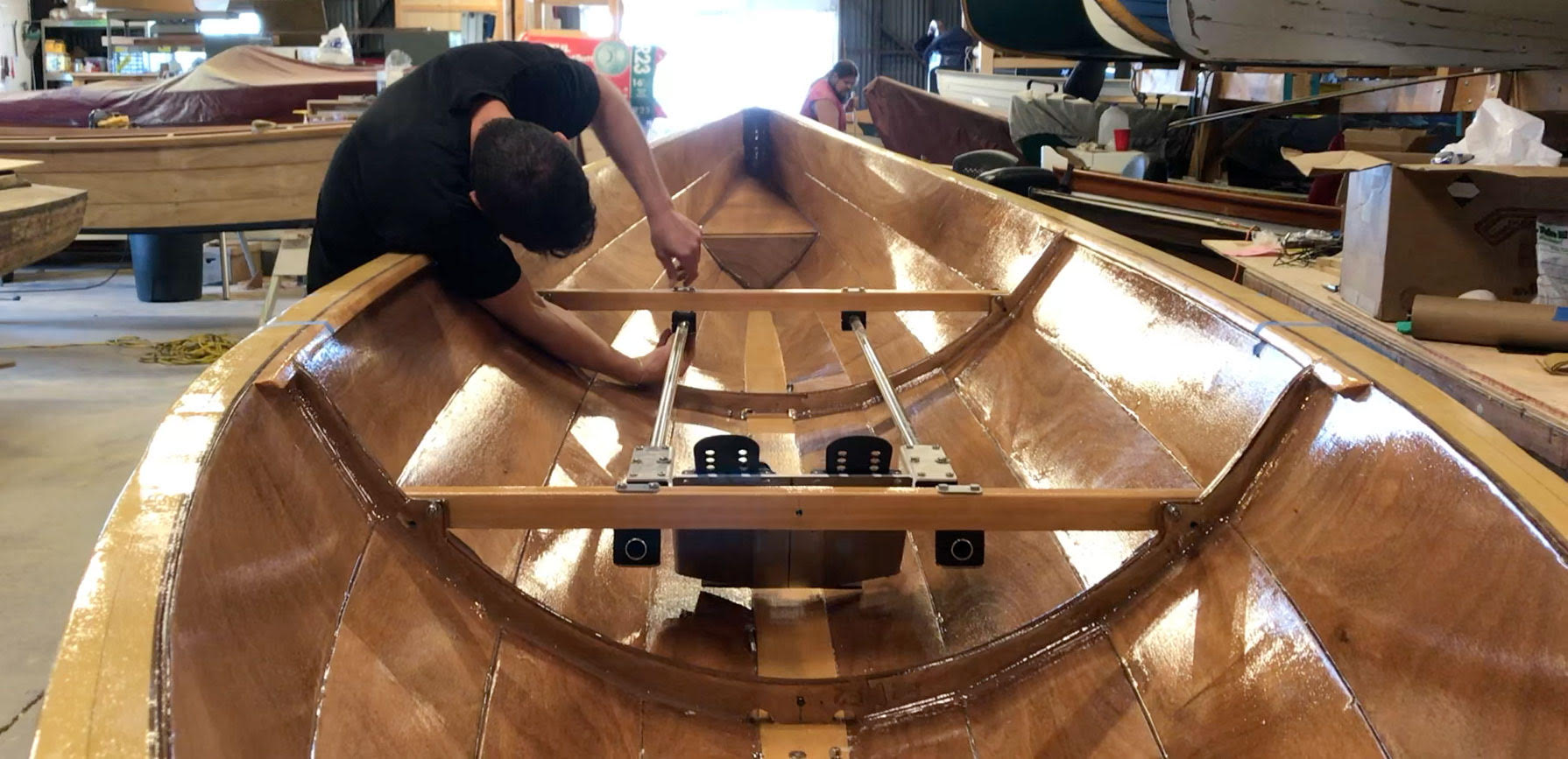 SPECIFICATIONS
LOA 18' 3" / 20' 0"
LWL 17' 0" / 18' 6"
Beam 4' 0" for both models
Draft 3-3/4" / 4"
Depth amidships 13-3/4" for both
Displacement 306 lbs / 347 lbs
KEY FEATURES
- Hull shape that is optimized for speed under oars
- Hull construction that prioritizes lightness
- Laminated gunwales for strength and stiffness
- Can accept the Poseidon sliding seat rig as a "drop-in" unit
The Drake Raceboat design process began well after the original Drake 17 was launched and tested. It was an endeavor to develop a go fast version, that prioritized lightweight construction, and used a gorgeous, laminated gunwale design to for a stiff, strong hull shape that resisted deflection under oars.
In designing this boat, I started with the numbers. Using the winning finishing times from the venerable Blackburn Challenge race around Cape Ann, I drew a boat that would compete with these winning rowers. A race like the Blackburn also demands a seaworthy boat. For my target rowers, the Blackburn wasn't necessarily the point, but speed and seaworthiness were important. Of course, in the battle of trade-offs, some stability, comfort, and seaworthiness -- traits of the Drake 17 (a sedan version) -- are sacrificed in order to provide speed. But it worked very well! The Drake Raceboat sea trials (conducted in Puget Sound) were the most successful of any of my boats. For the first time ever, I returned from a few days of sea trials without feeling any need to change a thing. She was just right.
The DRB 20-foot model was designed for Nate Rooks, a Stanford heavyweight crew rower and coach, who wanted a boat to race in the Seventy-48 race. This grueling race required more of a boat than a shell, but not one that sacrificed speed. The race waters are open water and waves are a fact of life. The seaworthy, hull shape of the Drake Rowboats was just what he needed. He finished 11th out of a large group of racers; only one solo rower finished ahead of him in a MAAS24 ocean shell.
To get to the 20-foot model, I stretched the 18-footer, fined the ends slightly, and gave her a little more freeboard. I also made the Poseidon sliding seat rig -- the best in its class - fully drop-in to the kit for a perfect fit. The ergonomics of the rowing station have been perfected.
To seasoned rowers, the DRB feels pretty stable but to a new rower she feels tippier than the Drake 17. Her light weight is immediately noticeable on the water. It takes a little while to get used to it, but then it feels wonderful. The raceboat tracks great and when powered up continues to track like an arrow without any noticeable deviation even in a cross wind, a very hard thing to get right in a good rowboat.
The hull is thin skinned -- 4mm Okoume plywood -- planked over molds and two ring frames. Without any stem or sternpost, the double ends of this boat are glued together with a fillet and a thin keelson in between. The laminated gunwales are a thing of beauty and offer a good challenge for the builder. The strongback, molds, and frames are all part of the kit and self-jig using the usual suite of features found in our kits. The Drake Raceboat is a good project for someone with a boat under their belt and some experience with lapstrake designs.